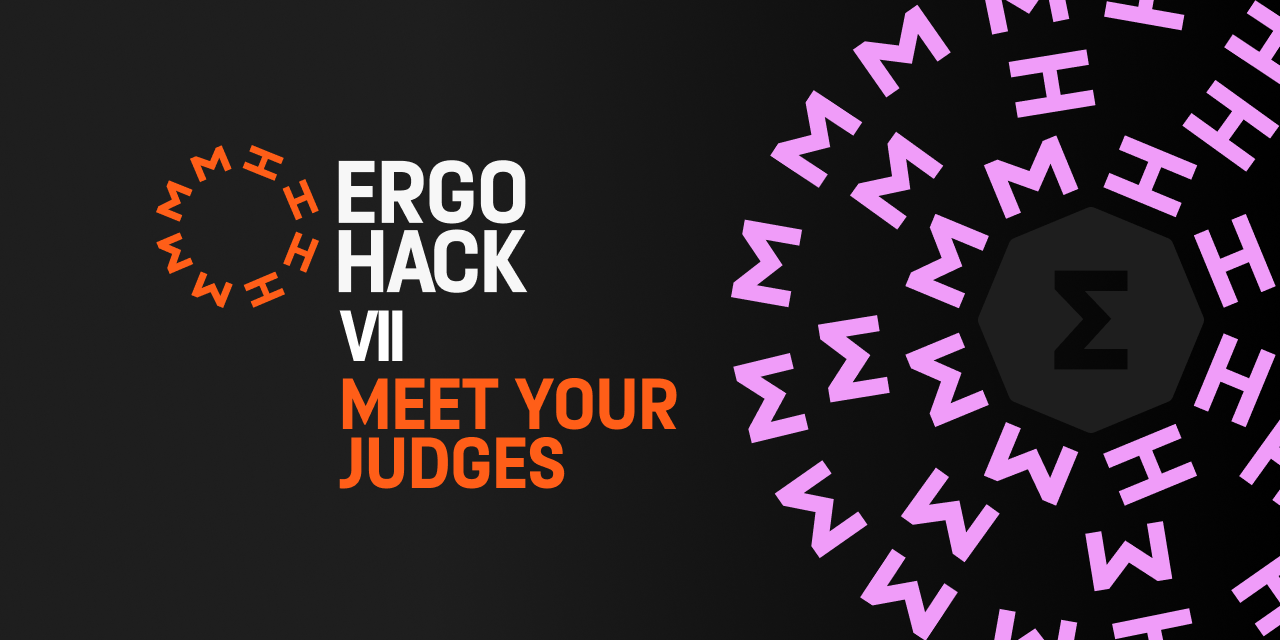 Ergohack VII is fast approaching and the community is eager to see what new tools and products the competitors will create! This ErgoHack is inspired by the future of finance with a focus on promoting mass adoption and scaling. The event takes place from October 13th-15th and features several notable prizes:
Prize Pool
1st place - 9000 SigUSD
2nd place - 5000 SigUSD
3rd place - 4000 SigUSD
Ergo Raffle Prize - 900 ERG
Ergohack VII - Reaching the Masses
Ergohack VII invites developers to bring forth their expertise in creating decentralized, open sourced financial tooling. Ergo's core ethos is to offer financial tooling to the ordinary person, and ErgoHack VII challenges developers to find ways to incorporate Ergo into existing infrastructure (Metamask, Trustwallet, etc) as well as create new avenues to mass adoption.
Meet Your Judges
The judging panel features several Ergo Foundation and Ergo community members that are representative of a diverse range of skill sets. Each of these judges offers unique expertise in different facets of blockchain technology.
Alexander Chepurnoy (Kushti)
Active in blockchain since 2011, Chepurnoy (Kushti) has more than 15 years experience in software development and written over 20 academic papers. Co-founder of Ergo, he was also a co-founder of smartcontract.com (now Chainlink), a core developer at NXT, and one of the first employees at IOHK, where he was a Research Fellow and Team Scorex Manager.
Joseph Armeanio
Joseph has been involved in crypto on the investment side since 2013, and was a partner CIO at Big Bear Investments. Joseph has been on the board of Universal Education Foundation (a 501(c)3 organization) since 2008. He brings a passion for counter economic frameworks and tools for social good. His role as business developer at the Ergo Foundation is to create partnerships in the crypto industry, as well as educational partnerships and research opportunities that drive the adoption of Ergo tooling in the public and non-profit sectors.
Mark Glasgow
Mark is an Ergo Foundation member and works across various roles in Ergo. As a Computing Science graduate with a personal passion for improving inclusive systems, he is also the Technical Director for Disabled Students UK CIC - a non-profit that was named as one of the most influential disability-led organizations in the UK.
Andre Hafner (qx)
Andre, or better known across socials as qx, is a lifelong technology enthusiast that has only recently dove into the world of blockchains in 2020. A director of information technologies at an Ivy League University, qx enjoys delving deeper into things like coding languages, creating content, and running ergoport bots in his spare time. Qx is an integral part of the Sigmanaut's program and immerses himself deeply into furthering the adoption of Ergo and blockchain's first principles.
Share post