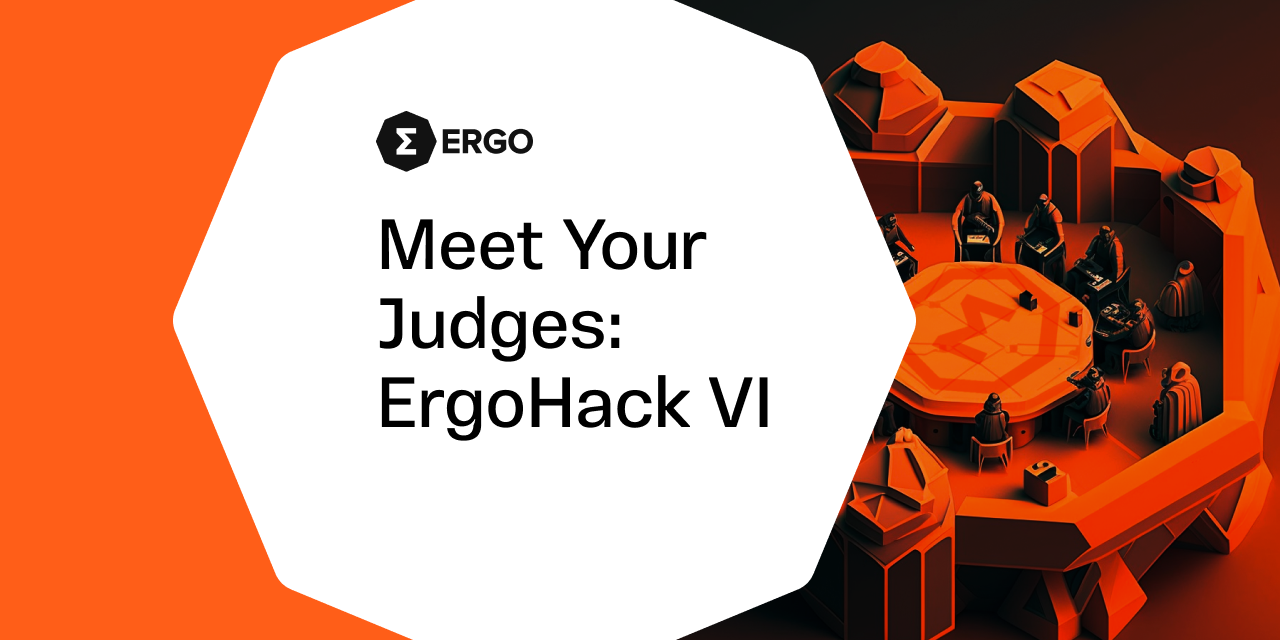 ErgoHack VI: Cypherpunk Finance is fast approaching! This iteration of Ergo's popular hackathon series will be a celebration of Cypherpunk philosophy and crypto's first principles. Applicants will compete for a prize pool of 18k SigUSD and 300k ErgoPad while they design and build future dApps and tools on the Ergo Platform.
ErgoHack VI Adjudication
Contestants will have the opportunity to present their work to some of the most innovative and creative minds in the crypto space. During the adjudication process, judges may consider any of the following criteria to make their final decisions:
Innovation
Code quality
Completed implementation
The jurors are made up of core and community developers (as well as other Ergo Foundation members) who have built, and continue to build, many of the unique features and dApps of the Ergo ecosystem. Many of them are prominent figures in Ergo, working to promote the tools and products the blockchain has to offer.
ErgoHack participants will enjoy this rare opportunity to not only present their work to these esteemed judges, but they will also benefit from their oversight and comments during the hackathon. In addition to Ergo Foundation Board members, contestants will be judged by several prominent developers from projects such as ErgoPad, Spectrum Finance and Paper Wallet.
Judges
Joseph Armeanio
Joseph has been involved in crypto on the investment side since 2013, and was a partner CIO at Big Bear Investments. Joseph has been on the board of Universal Education Foundation, a 501(c)3 organization since 2008. He brings a passion for counter economic frameworks and tools for social good. His role as business developer at the Ergo Foundation is to create partnerships in the crypto industry, as well as educational partnerships and research opportunities that drive the adoption of Ergo tooling in the public and non-profit sectors.
Mark Glasgow
Mark is an Ergo Foundation member and works across various roles in Ergo. As a Computing Science graduate with a personal passion for improving inclusive systems, he is also the Technical Director for Disabled Students UK CIC - a non-profit that was named as one of the most influential disability-led organizations in the UK.
Ilya Oskin
Ilya Oskin is an experienced software engineer and has been a core developer at Ergo since the launch of the project. Ilya has a degree in Economics from The Russian Presidential Academy of National Economy and Public Administration. He is also the supervisor at GeekBrains, an online educational platform devoted to blockchain development.
Ilya is the founder of ErgoDEX (now Spectrum Finance) where he is currently working as the lead developer for the project.
Alison Robson AKA anon_br
Anon_br is a software engineer passionate about facilitating crypto adoption through enhanced user experience. As a member of the Ergo Foundation, he is very active in the Ergo Portuguese community and wallet chats. He is also responsible for helping to build tools to improve the user experience with Paper Wallet and Ledger.
Luivatra from ErgoPad
Luivatra has a Bachelor of Science in computer science (with a specialization in AI) and a Master of Science (in Games) from the University of Utrecht and IT University in Copenhagen, respectively. After over ten years of experience as an engineer and software architect in the financial sector, Luivatra sought new challenges and transitioned to the unique and exciting developer work at ErgoPad and Paidia. Luivatra has been active in Ergo since 2021 and continues to explore the inner workings of eUTXO while working full time as ergoscript developer at Ergopad.
Registration
ErgoHack's are an identifying feature of the Ergo ecosystem, and previous hackathons have yielded many of Ergo's most popular dApps and wallets. Are you an entrepreneur and/or developer? Maybe your idea will one day become a signature dApp in the Ergo ecosystem.
Registration is now open and ErgoHack VI will begin February 8, 2023. For complete details and the registration form, please visit the ErgoHack website. Good luck!
Share post