Ergohack VI Participants: Week One Overview
Hackathon News
Devs
Events
Community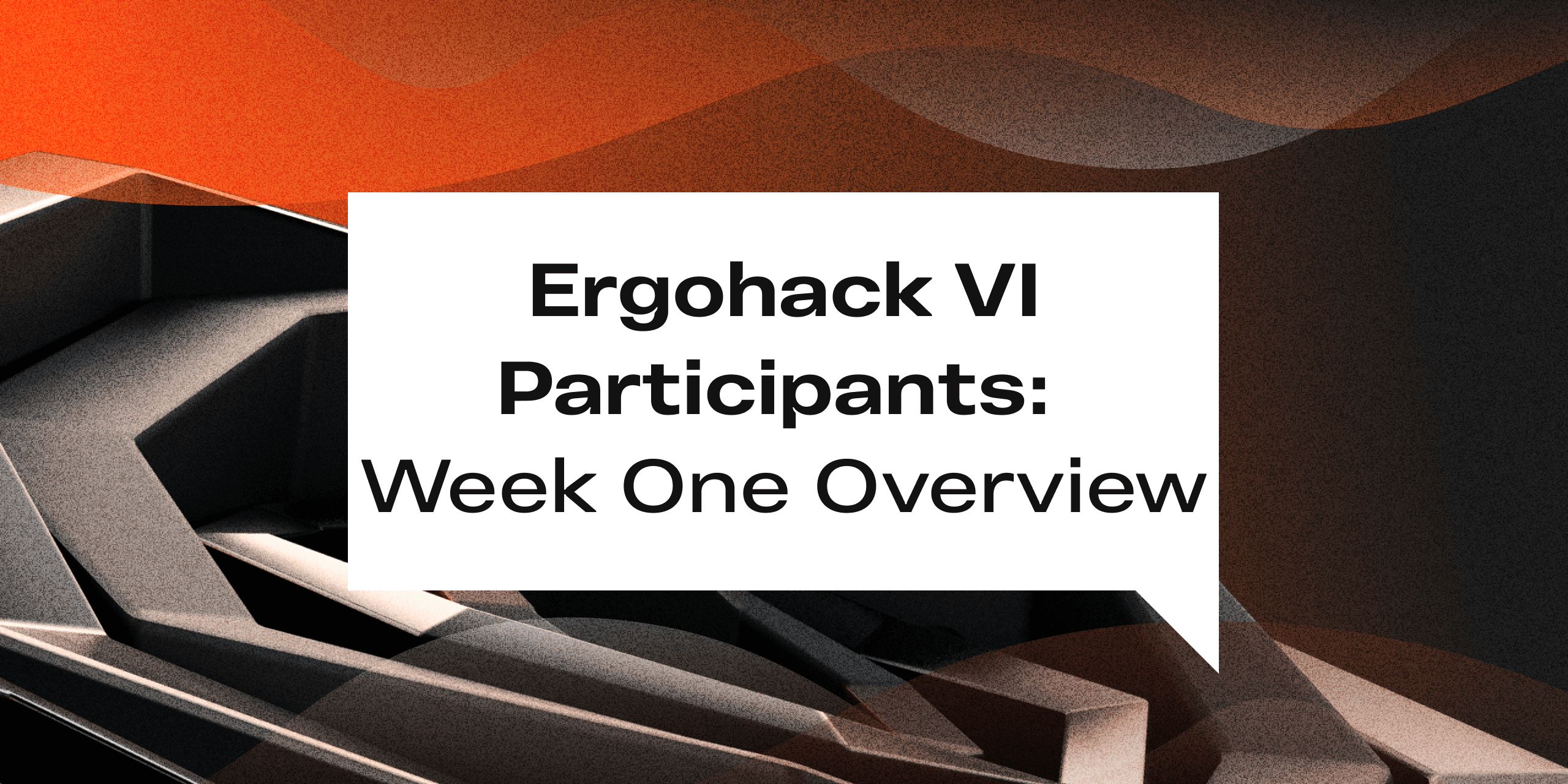 Ergohack VI: Cypherpunk Finance has officially started and our contestants are hard at work. With a focus on building tools and projects that promote Cypherpunk principles, it is incredibly encouraging to have such a large applicant pool for this ErgoHack. Attracting this many registrants, in a bear market no less, speaks volumes about the spirit of Ergo's developer community and the potential of the blockchain. As the contestants dive into their first week of the hackathon, let's take a look at the projects they are building.
Analog Ergo
This project aims to use cryptographic primitives (well established, low level algorithms) as the basis for a cross-chain peer-to-peer marketplace. It will enable users to set and agree to listing prices and other parameters in a private and fungible manner, without the involvement of intermediaries.
ChainCash
With an insatiable need to continually improve and build new innovations on Ergo, powerhouse developers Kushti and Scalahub have decided to submit a proposal to ErgoHack VI (while excluding themselves from the prize pool). The goal of ChainCash is to create a peer-to-peer monetary system, utilizing spender-signed currency with decentralized issuance and an elastic supply.
Ergo Stats
Ergo Stats is creating an iOS application that will allow users to more conveniently monitor blockchain statistics on mobile devices.
Ergo Tizen
Initially using Samsung's open source TizenOS, Ergo Tizen aims to allow the operation of Ergo nodes on any number of smart devices, such as televisions, refrigerators, smart phones, watches, et cetera.
Explorer-UI
The team at Spectrum Labs has thrown their hat into the ring with a proposal to update the Ergo explorer design. Their proposal aims to simplify the visual representation of the UTXO model to improve the user experience and increase ecosystem adoption.
Lithos
The Lithos team will be using this ErgoHack as an opportunity to showcase the collateralization side of their Lithos Protocol. In doing so, they hope to provide a low risk opportunity for lenders to earn yield on their ERG by providing collateral to mining pools, while promoting increasingly decentralized block production in the process.
Lilium
Lilium seeks to create decentralized NFT minting, distribution, and sales infrastructure capable of being seamlessly integrated into business applications and programs.
Netnotes
Proposing a method of base level file communication, Netnotes is working to enable "hybrid interaction" between a web browser and an Ergo node (while still allowing the node to maintain its boundaries).
OpenBoard
The goal of OpenBoard is to create an uncensorable message board of sorts, allowing authors to pin boxes of text on the Ergo blockchain. Once operational, messages will be updateable with a simple transaction. Using an app, messages will be fetched from an Ergo node and displayed locally.
Perma-Ergo
With the goal to decentralize food production, Perma-Ergo will utilize the Ergo blockchain to provide micro loans to farmers who are typically excluded from contributing to holistic natural systems (i.e. permaculture/agroecology).
Privacy Guide
This will be a 100% free online module, consisting of both written materials and video demonstrations, teaching the importance of online privacy. After completion, users will have an anonymous wallet and a step-by-step guide on how to safely navigate the Ergo blockchain.
Quantum Swap
Quantum Swap entered this hackathon with the goal of building a peer-to-peer Ergo NFT and native asset exchange service. The team intends to make use of existing tools to provide users with the ability to scan the blockchain for assets of interest, mint and send NFTs containing text messages to the holders, and construct "trading rooms" for the execution of agreeable transactions.
SigmaO
The goal of SigmaO is to create a permissionless and fully hedged smart contract, effectively allowing for call and put options on Ergo tokens.
Sigma Subscriptions
Making use of FleetSDK, Sigma Subscriptions intends to build a framework that will allow for the creation, management, and integration of subscription services on Ergo.
SIPS
Ergohack VI judge Joseph Armeanio is contributing to the fun as well (while excluding himself from the prize pool). Numerous SigmaUSD Improvement Proposals have been gathered together, and his submission will put forward a multitude of potential improvements that aim to improve resiliency and better balance the protocol's economics.
Other Applicants
Several late entrants are currently formulating their projects and will be submitting proposals over the course of the event.
Competitors are vying to make meaningful contributions to the Ergo ecosystem and take home a share of the prize pool, consisting of 18k $SigUSD and 300k $Ergopad. Registration remains open through February 21st, after which the judges will begin to assess submissions and determine winners. In addition to this hackathon's prize pool, social media manager CW has set up a raffle to potentially fund an additional community choice award!
Good luck to all of the participants, and be sure to keep an eye on Ergo's social media channels for the latest ErgoHack VI updates!
Share post