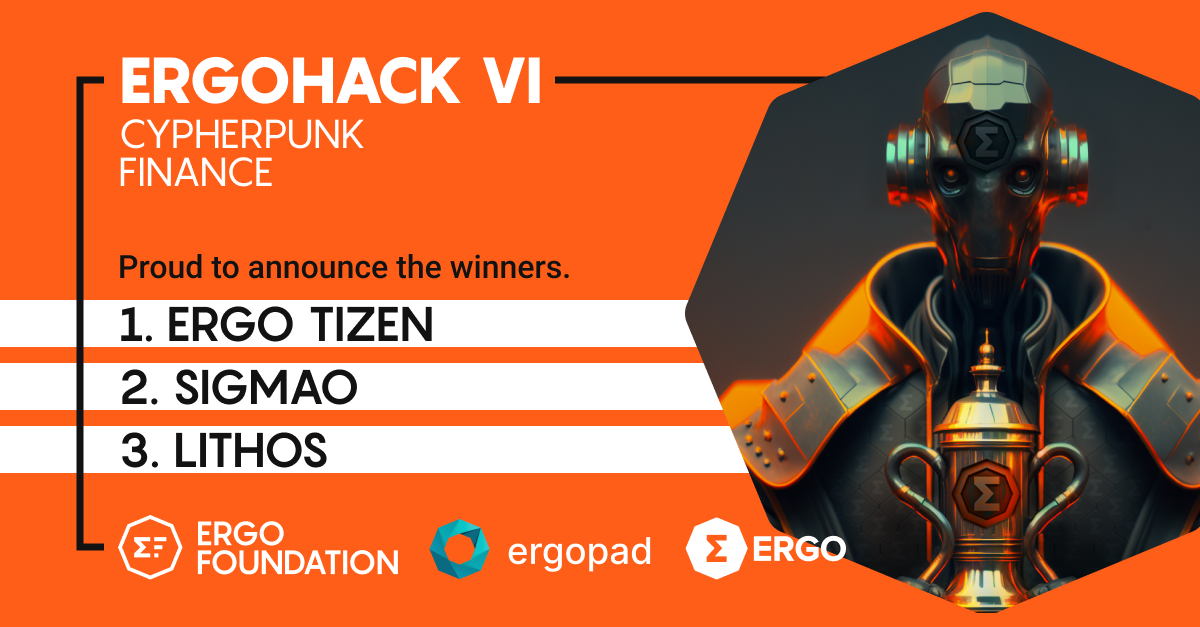 Although crypto markets remain down, the Ergo community never stops building. Regular community hackathons continue to produce viable products and new dApps for the blockchain. With Ergohack VI - Cypherpunk Finance, competitors were encouraged to design and build tools that uphold cryptocurrency's first principles of decentralization, privacy and DeFi tooling. Many Ergohack teams built incredible projects, and after a grueling adjudication, our judges have decided which teams will receive awards. Choosing these final winners was a difficult task, as many of the teams submitted excellent work.
Ergohack VI's Prize Pool
1st place - 10K SigUSD + 150K ERGOPAD
2nd place - 6K SigUSD + 100K ERGOPAD
3rd place - 2K SigUSD + 50K ERGOPAD
The Winning Projects
This hackathon featured a plethora of unique project proposals, offering new ideas for blockchain and PoW, technological innovation and coding mastery. There were 5 judges for this ErgoHack: Joseph Armenio, Mark Glasgow, Ilya Oskin, Alison Robson, and Luivatra from Ergopad.
The judges considered the following criteria when evaluating submissions:
Innovation
Code quality
Completed implementation
Based on this criteria, the judges have decided on the following winners (these descriptions quote the respective proposals for each team).
1st Prize - Ergo Tizen
Ergo Tizen's goal was to create an "Ergo node that runs natively on smart devices such as TVs, fridges, mobile phones, watches, etc. This will be achieved by targeting Tizen OS, Samsungs open source mobile operating system and done in a way where it should be easily portable to other platforms such as WebOS (LG smart TVs)."
2nd Prize - SigmaO
"SigmaO intends to provide Ergo users the ability to create 'call' or 'put' options on EIP-4 tokens, materialized by a standard EIP-4 token. An option contract offers the buyer the possibility but not the obligation to buy (call) or sell (put) the underlying asset at a fixed exercise price."
3rd Prize - Lithos Protocol
"The Lithos team will use ErgoHack VI to show off work done on the collateralization
side of the Lithos Protocol. Given that the topic of this Hackathon is CypherPunk Finance, we hope to showcase a safe, effective way to gain yield on ERG while also helping to decentralize the Ergo blockchain.
Our goal is to create the contracts necessary to allow for collateralized mining pools which interface with the rest of the Lithos protocol. In addition, we plan to show a mockup UI which will allow for lenders to collateralize their ERG."
Community Vote
In addition to the Ergo Foundation's prize pool, members of the Ergo community organized a grassroots fundraiser to create community prizes.
1st Prize - 500 SigUSD
2nd Prize - 300 SigUSD
3rd Prize - 200 SigUSD
Over 650 votes were cast by the community to decide these prizes. Ergo Tizen once again took first place in the community vote. Lithos Protocol took second place, and the Explorer UI team was awarded third place. The community technically selected Chaincash for 2nd prize, but that project involved Ergo core developers and they had previously announced that they would be removing themselves from the prize pool.
Conclusion
Overall, there were 16 projects that competed in Ergohack VI - Cyherpunk Finance. We would like to congratulate all of the participants and winners on their hard work - it is truly inspiring to witness the creativity and innovation within the Ergo community. If you have an idea for blockchain development, keep your eyes out for future ErgoHack announcements. Your project could become a keystone dApp of the Ergo ecosystem one day!
Share post