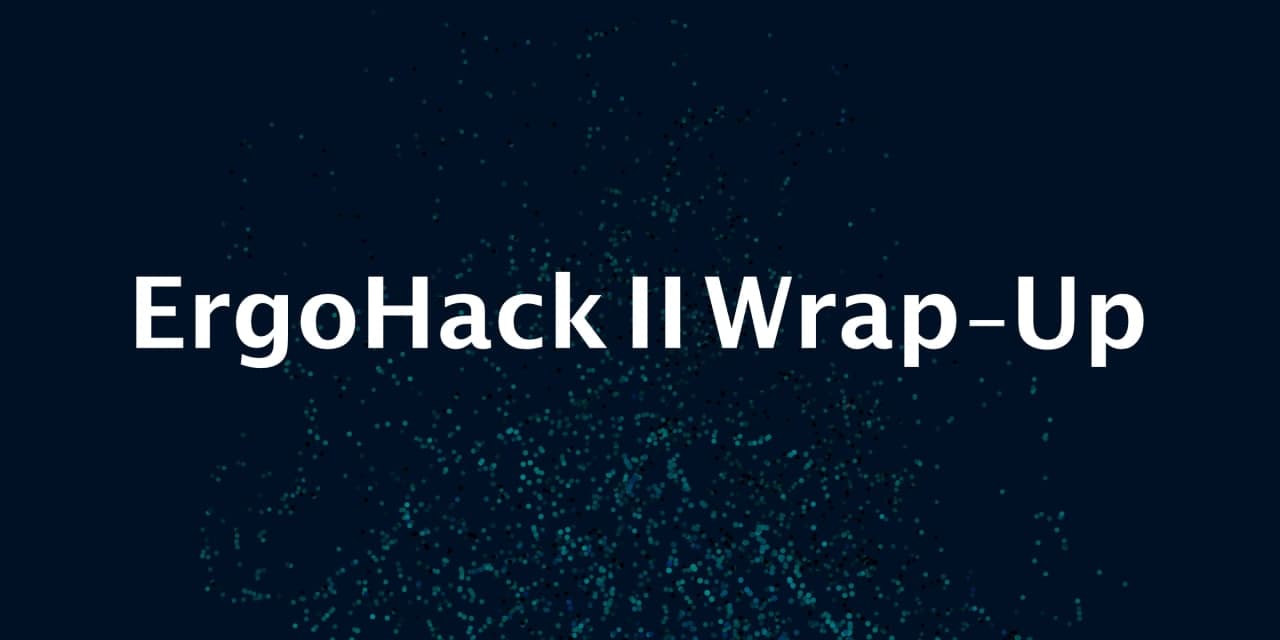 After weeks of preparation and an intense weekend, we have completed ERGOHACK II! Thank you to all participants and spectators who participated - it was an exciting event to host and we loved seeing all the collaboration!
As you may know, hackathons gather coders to work on projects about specific topics. ERGOHACK II: Social Transformation aimed to produce early prototypes for the Ergo Platform. It promoted the use of ErgoScript as a programming tool while building up solid foundations for the community. In the final phase of ERGOHACK II, we witnessed the birth of nine new projects come, each of them with a different goal.
ErgoHack was held on Ergo Platform's Discord, where mentors and participants could communicate in public channels and welcomed the incoming community. During the event, non-tech participants were able to gain insights through released interviews with Kushti, Armeanio, as well as a few guest interviews from the Cardano ecosystem: Long Nguyen and Patrick Tobler. 
ERGOHACK II was a quest for exploration on UTXO based smart contracts and the products we see today are essential for the Ergo Platform's ecosystem. Ergo is an open-source blockchain project that grows with collaboration and each discovery is a stepping stone for what is to come after.
Let's take a look at some of the projects from ERGOHACK II:
Ergo-Lend
Ergo-Lend is a peer-to-peer lending platform. It aims to create an on-chain platform for people to lend/borrow money. You can find the teams work here and their front-end draft here.
Ergo-Audio
The Ergo-Audio team is the same team that proposed SmartPools in the first ErgoHack. Inspired by "FunkWhale,", they aim to build a streaming service on the blockchain that can operate with a Creative Commons licence. Their proposition also includes NIPoPoWs for light clients and oracle pools for data verification. You can find their last proposal in the Ergo-Audio channel.
HYPO10USE (Quid Games)
HYPO10USE (Quid Games) was a group of developers coming from EVM/BSC. They aimed to create a decentralized betting game for people to play. Their design incorporated ergo-raffle design inspired by the popular Netflix series Squid Game. You can find their work on GitHub and check out a demo of the site here. 
Minotaur
The Minotaur team aims to build a functional Ergo wallet for both Android, iOS, Windows and Linux. They aim to develop a multiplatform wallet that will support dApps with cold & hot wallet functions. You can find their release here.
Ergo-Subpools
Subpools is a solo project which is a development on SmartPools from the first ERGOHACK. It aims to build a smart-contract-based mining pool. It is incredibly important to create a decentralized & trustless blockchain by eliminating the need for a mining-pool operator. You can find the code here.
Graviton
The Graviton team (from the Graviton One project) is building bridges among blockchain ecosystems. Apart from deploying GTON/SigUSD and GTON/USDT pair, their work during ERGOHACK helped lay the foundations towards integrating the Wormhole bridge between Ergo and Solana ecosystems. They will release their code soon.
Ergo-Pad
The ErgoPad team aim to consolidate all of the  holdings for Ergonauts (including NFTs and native tokens) in a visually clean dashboard.
The builder of ergonfts.org and ergotutorials.com, LadoPixel, also surprised us with a tool to view and store multiple wallets simultaneously! You can test the project here.
Oracle-Pools
While not a formal submission, community member Luivatra created an ETH-connector and has booted up an ETH/USD oracle! You can find the code for the ETH-connector here.
We are delighted with the results so far! Ergo Platform's repository is growing, with several more ErgoScript-By-Examples available, thanks to many newcomers! Do not worry if you missed it, all the resources are available here to onboard you in the Ergo ecosystem. For any other questions, you can communicate directly with the team on Telegram & Discord.
Thank you for participating and we look forward to the next ERGOHACK!
Share post