Ergo Crowdfund Campaign: Promoting Ergo in Partnership with Bitpanda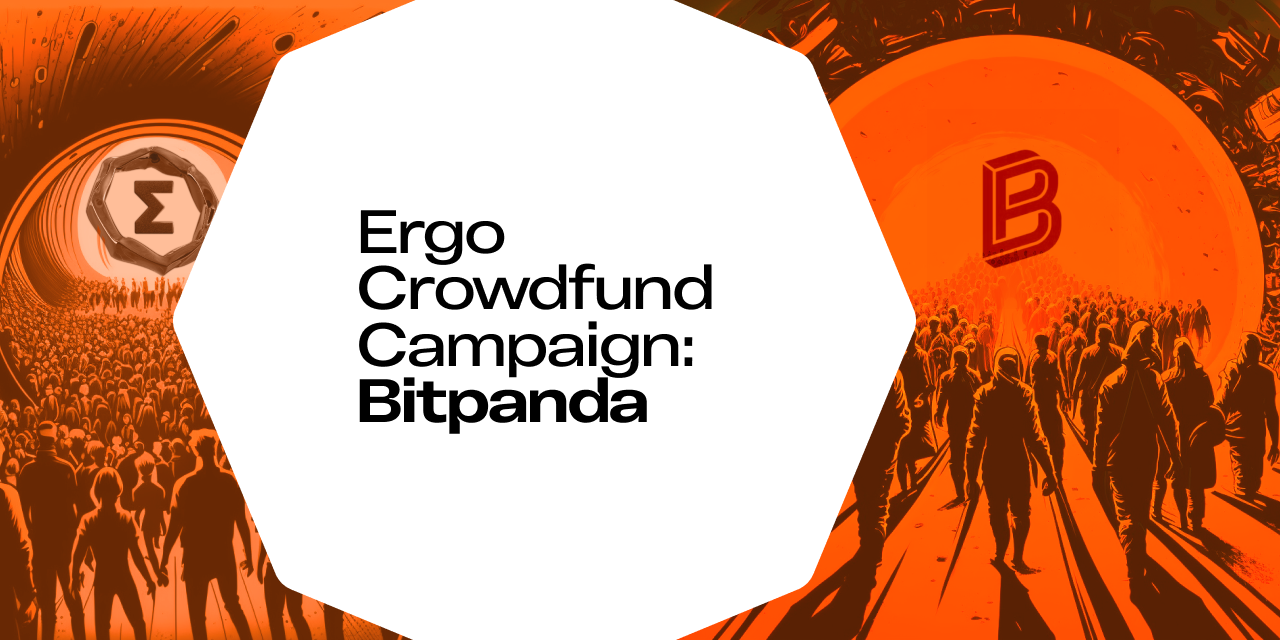 This raffle seeks to fundraise the marketing activities for the Ergo listing on Bitpanda GmbH, a leading European brokerage firm.
Support the crowdfunder on ergoraffle.com!
Bitpanda: A European-Regulated Crypto and Securities Broker
Based in Vienna, Bitpanda has solidified its position as a regulated multi-asset brokerage hub in the cryptocurrency space, operating as a fiat on-ramp for over 40 countries in Europe and beyond. Over the last six months they have achieved exceptional growth by significantly expanding their partnerships and market presence. Notably, Bitpanda plays a pivotal role in facilitating digital trading for banks, fintech firms, and other institutions, collaborating with notable entities like Raiffeisenlandesbank NÖ-Wien, Visa, and Coinbase. The platform's popularity, backed by tech billionaire Peter Thiel's fundraising endeavors, is underscored by its 4 million strong user base. They offer a wide range of investment avenues, encompassing cryptocurrencies, stocks, and more. Completed by KPMG reserves auditing, Bitpanda is committed to European data and security standards, including the upcoming MiCa legislation.
Ergo's Integration with Bitpanda's Spotlight Program
Ergo's collaboration with Bitpanda's Spotlight program serves as a launchpad for high demand crypto coins and projects, bestowing them with amplified visibility. To facilitate this integration and increase Ergo's adoption, a co-marketing fundraising goal of 8575 ERG has been set, which will be leveraged by Bitpanda to incentivise their vast subscriber base across several events. The remaining integration cost will be covered by the Ergo Foundation.
The Road to European Dominance
Aligning with Bitpanda's mission of fostering financial literacy, Ergo aims to make decentralised self-sovereign monetary systems accessible and comprehensible to the masses. The collective endeavors of the community, coupled with strategic alliances with entities like Bitpanda, pave the way for a stronghold in the European market and beyond.
Why Crowdfund?
While the Ergo Foundation treasury has unquestionably played a pivotal role in bootstrapping the ecosystem, executing a crowdfunder of this nature demonstrates community support for the listing. Furthermore, it aligns with our ongoing commitment to shifting responsibility to the community, forging a fully decentralised open-source economy.
In tandem with these overarching goals, we are thrilled to highlight the recent progress of the Sigmanauts in establishing a multi-sig treasury, marking the inception of a concerted effort to shape and cultivate frameworks that will catalyse Ergo's growth and evolution. Additionally, we are pleased to announce the approval of a small initial fund transfer from the foundation treasury to the Sigmanauts' treasury (more details soon). As we press on toward a future that is robust, sustainable, and community-driven, we persist in laying the foundation for Ergo's enduring strength and lasting success.
Share post