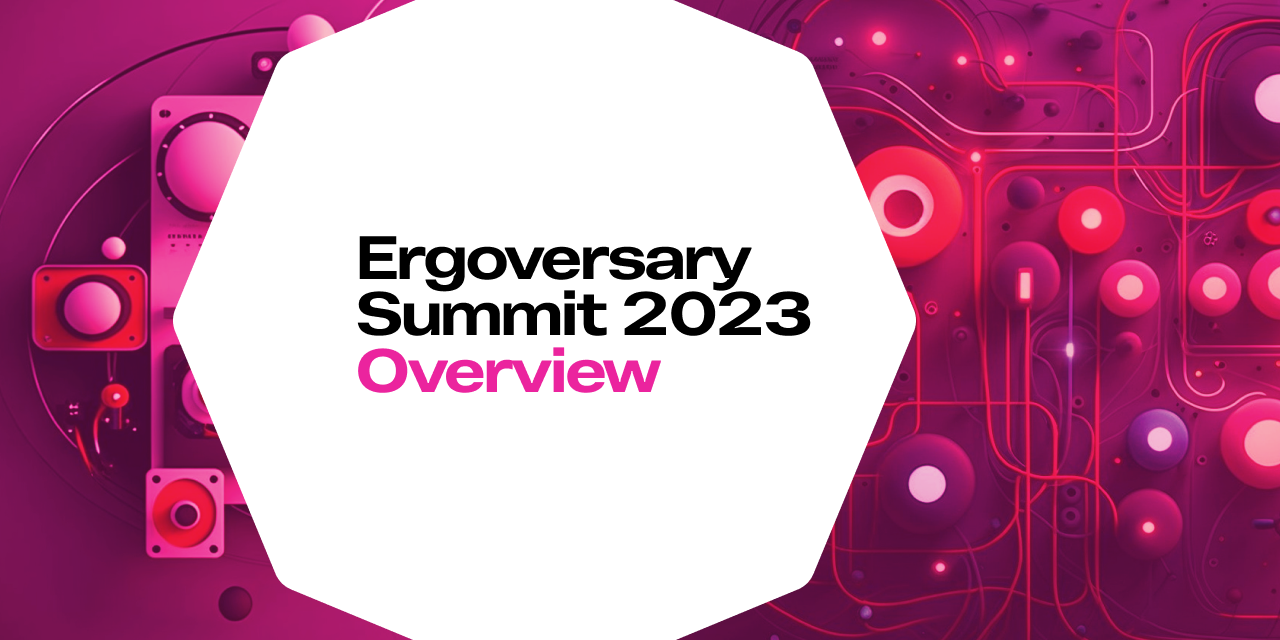 From July 1st, 2023 onwards, Ergonauts can enjoy a jam-packed Ergo Summit celebrating all the work and progress within the ecosystem. This highly anticipated event was released to the community last week and is archived on YouTube for all to see. There are numerous talks and presentations that were created by a variety of prominent speakers, including members from the Ergo Foundation, core developers, and representatives from ecosystem projects building on top of Ergo.
Below is a breakdown of how the videos were released. Each day of the Ergo Summit featured a different group of specialists.
Day 1 - Ergo Foundation, core developers and sigmanauts
Day 2 - Projects and dApps within the ecosystem
Day 3 - External researchers and partners
What is the Ergo Summit all about?
Traditionally, previous Ergo Summits have covered a variety of blockchain topics while also highlighting the latest updates in the Ergo ecosystem. For this Ergo Summit, the topics included stablecoins, NFTs, gaming, borrowing/lending, wallets, mining, bots, oracles and other forms of revolutionary technology that are being built on top of Ergo. It is important to note that a variety of Ergo community members created videos covering each of these topics, providing a comprehensive guide on Ergo's latest updates.
What Topics and Projects were Featured During the Summit?
The Ergo Summit featured a wide range of projects that demonstrated the diversity and innovation within the Ergo ecosystem. One of the most notable dApps featured was DexyGold - a stablecoin pegged to gold. The Ergo Mobile/Terminus wallet was also discussed at great length as a wallet that offers a user-friendly mobile wallet experience. It is especially ideal for those who prefer not to use desktop wallets.
Gaming on Ergo was an important topic with projects like Blitz TCG and why they chose to build on Ergo. There was also a presentation on a new DeFi game called HodlCoin where users benefit from holding their coins, and are penalized for selling. The summit also delved into lending protocols such as EXLE, Duckpools, and SigmaFi and the role they will play in the future.
Several other notable topics were covered during the summit such as: NFTs on Ergo, GuapSwap's miner profit swapping, Ergo Node management, Spectrum LP and farming opportunities, Spectrum bots' off-chain functionalities, TabbyPOS blockchain-based payments, Ergo Tipperbot for social media tipping, token creation on Ergo, advancements in Oracle Pools V2, Satergo wallet's desktop functionality, mining insights, Ergopad's launchpad capabilities, and AnetaBTC's facilitation of Bitcoin's use on Ergo and Cardano. The Ergo Summit 2023 sought to encapsulate an in-depth overview of these projects and highlight their growth and potential within the Ergo ecosystem.
Below is a complete list of Ergo Summit videos:
DexyGold
Completeness of Ergo
Ergo Mobile/Terminus Wallet
Gaming on Ergo
HodlERG Coin Game
Lending on Ergo
NFTs and Ergo
Guapswap
Ergo Node
Spectrum LP and Farming
Spectrum Bots
TabbyPOS
Tipperbot
Create a Token on Ergo
Oracle Pools V2
Satergo Wallet
Mining
Ergopad
AnetaBTC
Conclusion
The Ergo Summit is an event where core Ergo members, developers, and partners come together to share what the future holds for Ergo. It is a testament to the evolution of the ecosystem within the last year. With specific themes allocated for each day, community members have the opportunity to gain a thorough and comprehensive understanding of Ergo's advancements and the dApps being built on top of the blockchain.
Share post