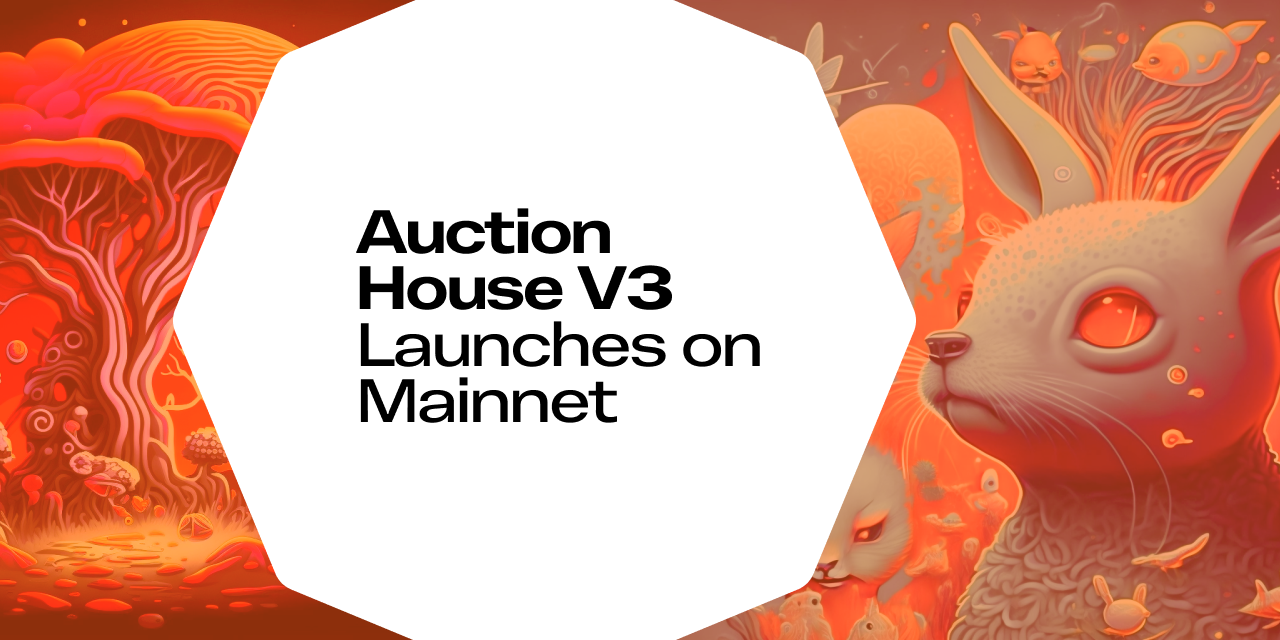 One of Ergo's most popular community dApps has recently released a suite of new features in Auction House V3. Developed by Anon_real, the Auction House was the first NFT market place on Ergo, enabling users the ability to buy and sell NFTs in a decentralized manner.
History of Auction House
A quote from the lead developer and founder of the Auction House, Anon_real:
"[The] Auction House is the first NFT marketplace on Ergo, up and running since October 2020. It has been tested and used for around two years. Multiple bug fixes have been done and two versions (V1 & V2) have been released. The website is currently stable and its smart-contracts are pretty reliable.
The most important aspect of the current running version of Auction House is that it is completely decentralized. Artworks and auctions are all implemented inside the users' browser according to the EIP-22 and EIP-24 standards. We continue our way to stay fully decentralized, as it is one of our core values at Auction House."
In keeping with the ethos of Ergo, anyone can buy and sell their NFTs on the marketplace regardless of collection verification. This has pros and cons. On one hand, decentralization is flourishing on the Auction House, but on the other, users need to be careful about knowing their assumptions by not buying fake NFTs. The safest way to avoid buying counterfeit NFTs is by double checking that the mint address of the NFT matches the collection's mint address. That being said, Auction House V3 offers some improvements for assisting buyers with confirming the authenticity of an NFT.
What Improvements does Auction House V3 have Over its Previous Version?
The Auction House will not only have a variety of important improvements, but several new features as well. The primary focus of V3 is to enhance the user interface (UI) and user experience (UX) by providing a more intuitive and enjoyable trading platform. Notable additions to the platform include the introduction of collections (which follow the EIP-34 standard) and a launchpad feature that will enable artists to schedule and promote upcoming collection releases.
Auction House V3 is also deploying a new collection verification standard so that the buyer is able to recognize legitimate collections from fake collections (if there are any fakes listed on the website).
According to the Auction House team, security and transparency remain a key priority and the dApp will offer full transparency with open-source smart contracts and community-reviewed auction types.
Bulk minting has been implemented in V3 to simplify collection creation, and the inclusion of traits and filtering based on the EIP-24 artwork standard allows users to refine their search. Another exciting feature will include support for buy offers. This will allow buyers to make offers on artwork that is not listed for sale.
The Auction house will also support three new listing types for artists:
Fixed Price Listings
Highest Bid Auctions
Dutch Auctions
These new listing types will give artists and buyers alike new options for buying and selling NFTs.
Tokenomics and Utility
Because the dApp performed an IDO with ErgoPad, Auction House has its own token (AHT) which offers several functions within the platform.
These include:
1. Promotion
Users can showcase their artwork on the landing page, listings, and launchpad auctions.
2. Reward
Buyers and sellers can earn ATH as a reward at a rate of 5% per transaction. These rewards are determined by taking the numeric value of an asset's price and calculating 5% of that amount. For instance, if an asset is listed for 100 ERG, both the seller and buyer would receive 5 ATH each.
3. Profit Sharing
AHT can be staked via ErgoPad to earn a share of Auction House's profit. Auction House derives profit from artwork sales at 2% on the final price.
The Auction House team has stated that:
"We will devote 30% of Auction House profit to our stakers. The distribution period and details are yet to be decided on. Initially we will distribute this 30% in an automatic but centralized fashion since there is not a working solution as of today on Ergo blockchain. Later on, as ErgoPad releases Paideia, we will use it to make this process decentralized."
The Auction House V3 represents a new era in the NFT space on Ergo as a variety of innovative improvements and features have been added to the platform. To utilize the Auction House, you can visit the marketplace here. For a deeper dive into Auction House's tokenomics and other information relating to the dApp, please consult the whitepaper.
Share post