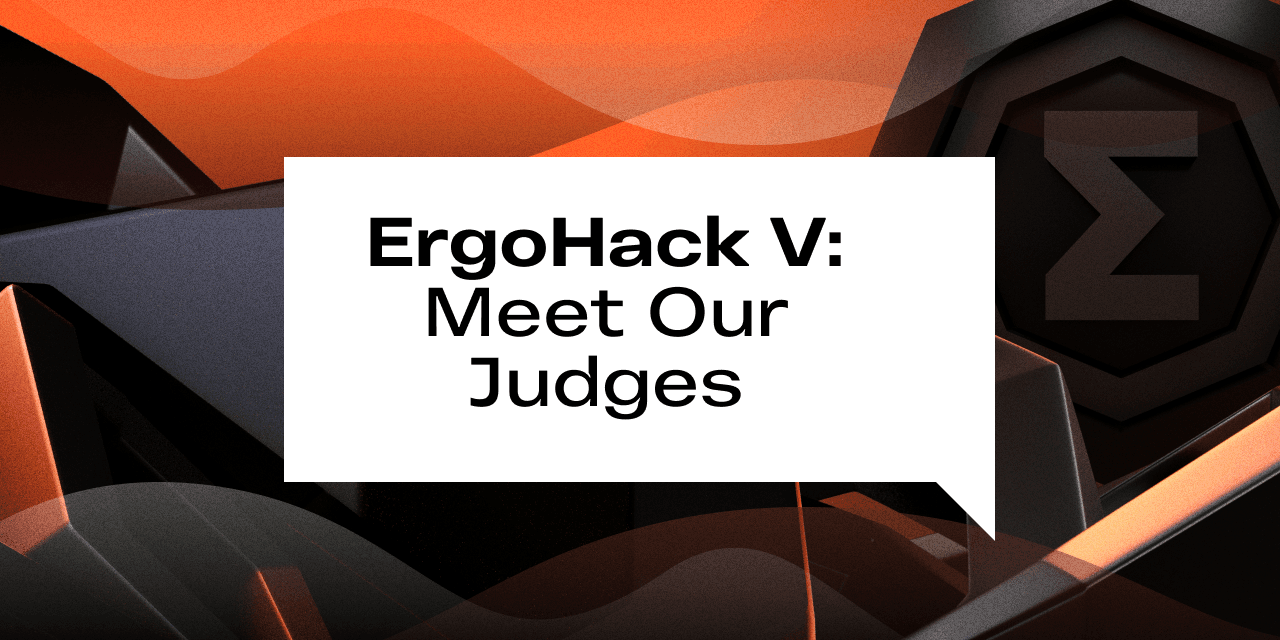 With applications now open, ErgoHack V is fast approaching. With each new hackathon, the prizes and number of industry collaborations continue to grow! For ErgoHack V, the Ergo Foundation is proud to partner with Flux, Alephium, and the Djed Alliance to present this hackathon that will promote the theme of mining and minting. The prize pool is the largest to date, and the judging committee will feature industry experts from all of the presenting partners.
ErgoHack V Jury
The adjudicators who will represent the Ergo Foundation (EF) include some of the most innovative and creative minds in the crypto space. They are made up of Ergo core and community developers who have built, and continue to build, many of the unique features and dApps of the ecosystem. Several of the EF judges are prominent academics with numerous accolades and publications to their names, and many have extensive experience in blockchain development before working on Ergo.
ErgoHack participants will enjoy this rare opportunity to not only present their work to these esteemed judges, but they will also benefit from their oversight and comments during the hackathon.
Because there are several co-presenters, participants will also receive critique from several guest judges for this hackathon. Together with our EF judges, the ErgoHack adjudicators will evaluate all proposals/projects based on the following four criteria:
Innovation
Code quality
Completed implementation
Quality of user interface
Ergo Foundation Judges
Alexander Chepurnoy (aka Kushti)
Alexander Chepurnoy is an experienced blockchain developer, speaker and educator. From 2014 to 2015 he was a core developer for the NXT blockchain and a Co-Founder of smartcontract.com, now known as Chainlink. From 2016 to 2017, Alexander worked as a Lead Developer at Waves and Scorex Manager at IOHK. He began his journey with Ergo in 2016.
Alexander is a graduate of the State Petersburg National Research University, where he also taught a course on cryptography and blockchain technology. He is widely cited on Google Scholar and has spoken at numerous blockchain events and conferences worldwide.
Mohammad Hasan Samadani (MHS_SAM)
Mohammad (mhs_sam) has a PhD in computer science and over 12 years of experience in security and software development as a product owner, researcher, and team leader. He developed the ERGO mining softwares, Stratum server, and ergopool (smart contract based pool to bypass pool-resistance of Autolykos v1) and became an ERGO Foundation Board Member in 2020.
Mark Glasgow
Mark is an Ergo Foundation member and works across various roles in Ergo. As a Computing Science graduate with a personal passion for improving inclusive systems, he is also the Technical Director for Disabled Students UK CIC - a non-profit that was named as one of the most influential disability-led organizations in the UK.
Joseph Armeanio
Joseph has been involved in crypto on the investment side since 2013, and was a partner CIO at Big Bear Investments. Joseph has been on the board of Universal Education Foundation, a 501(c)3 organization since 2008. He brings a passion for counter economic frameworks and tools for social good. His role as business developer at the Ergo Foundation is to create partnerships in the crypto industry, as well as educational partnerships and research opportunities that drive the adoption of Ergo tooling in the public and non-profit sectors.
Guest Judges
Alephium
Cheng Wang, Founder
Cheng Wang is the founder of Alephium. Alephium is the first operational layer 1 sharded blockchain, scaling and improving on Bitcoin core technologies, Proof of Work and UTXO. It delivers a highly performant, secure DeFi & dApps platform with enhanced energy efficiency. Cheng has a strong background in both cryptography and distributed computing due to his work on two PhDs (math and computer science). He proposed the first linear-time asynchronous byzantine agreement algorithm. Cheng is also the author of Uniflash, a fully decentralized flash loan protocol.
Mikaël Vaivre, Alephium
Mikaël was the former head of product for Lykke corp, a Swiss quality crypto exchange. He also received an engineering degree from EPFL.
Flux
Tadeáš Kmenta, Co-Founder and Chief Innovations Officer
Tadeas has over 10 years of experience developing decentralized blockchain technologies. As a strong privacy advocate, blockchains and web3 is where the future of freedom lies. Tadeas physics background helps further shaping ideas to be applicable throughout many industries.
Tim Sulmone, Business Developer
Tim is one of the Business Developers and Docker Developers of the Flux project. With over a decade of experience in the cryptocurrency space, and prior international supply chain management, he leverages his past experiences to help grow the project. Tim has also been active in the gaming sector, by building servers and growing communities. He has participated in game development competitions such as js13k and Gamedev.js Jam.
Registration
Be sure to get your registration in by October 2nd, 2022! Please visit the ErgoHack website for all the details and application instructions.
And for all of you who follow our ErgoHack's, please stay tuned for the results on all of our social media channels.
Share post