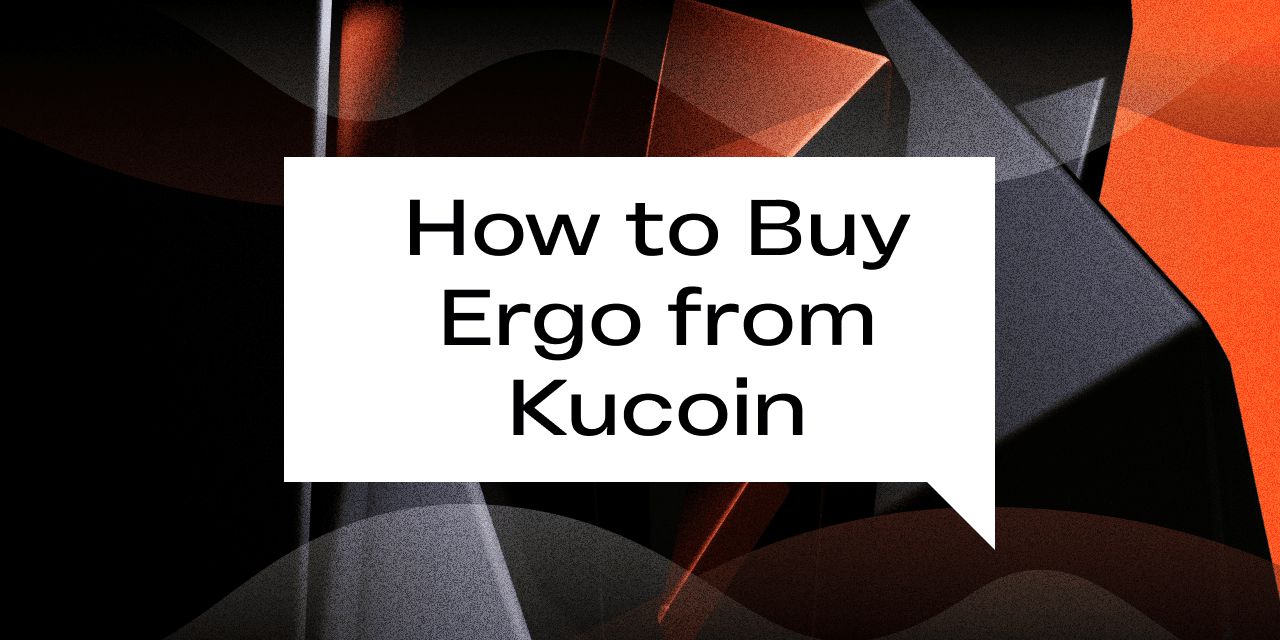 All aspects of this article are not financial advice. Double check all information given from other sources. Make sure the exchanges you are using are safe at the time of purchasing.
DISCLAIMER: IT IS RECOMMENDED THAT YOU SEND A TEST TRANSACTION OF A VERY SMALL AMOUNT OF CRYPTOCURRENCY BEFORE YOU SEND ALL OF YOUR FUNDS. THIS IS TO ENSURE YOU HAVE DONE THE PROCESS CORRECTLY AND TO PROTECT YOURSELF FROM ACCIDENTALLY LOSING ANY FUNDS.
It has been reported by the Ergo Foundation that Tier 1 exchange listings are currently in development, however many who are new to Ergo may be asking how they can acquire ERG right now. One such exchange that is very popular in the Ergo community is Kucoin (for a list of all the exchanges that trade Ergo, please visit this webpage).
In the following article, we will detail how this writer goes about acquiring ERG on Kucoin. For reference, we will be using Crypto.com as our starting point for purchasing other assets that we can then exchange for ERG. However, these steps will be fairly similar for those of you who use other exchanges to acquire crypto assets.
Step 1: As was mentioned, we will be using Crypto.com as our starting point, but you can use any number of centralized exchanges to begin this process. If you live in a jurisdiction where you can use your credit card to purchase crypto directly from Kucoin, and you have completed KYC, please skip to Step 10.
Since Kucoin only has ERG trading pairs with BTC and USDT, you will need to acquire one of those assets before trading for ERG. On Crypto.com (or any other centralized exchange of your choice) you can purchase BTC or USDT to transfer to your Kucoin account. If you would like to explore cheaper fees, you can explore using assets like EOS and/or XLM that you will then transfer to Kucoin and trade for either BTC or USDT.
Step 2: On the Crypto.com Exchange, click on balances. Click on withdraw.
Step 3: Now, open your Kucoin exchange account on a desktop/laptop. For our purposes, we will only talk about using the website version of Kucoin. However, the process is similar on the mobile application.
Step 4: Go to your main account wallet, and then click on deposit.
Step 5: You will be prompted to "select a coin." Now, this is very important. You NEED to select the crypto asset that you first purchased in Step 1. If you purchased BTC, USDT, EOS, XLM, or any other asset, you need to choose that respective coin for depositing into your Kucoin exchange wallet.
Step 6: Once you have selected the appropriate asset, Kucoin will present you with the wallet address and a memo. Copy the address and the memo down on a piece of paper (just in case).
Step 7: Go back to your Crypto.com (or CEX of choice) webpage. Select the asset in your wallet that you are going to transfer to Kucoin. Click on Withdraw and select "External Wallet Address."
Step 8: Enter the address and memo you were given from Kucoin in Step 6. It is often easiest to copy and paste addresses, but do take care to make sure that they match after you paste. You may have to enter your authenticator code and email/text code in order to complete the transaction.
Step 9: Complete the withdrawal from Crypto.com (or CEX of choice) to Kucoin.
Step 10: Go back to Kucoin. Once the asset appears in your Kucoin Main Account, be sure you move this asset to your Kucoin Trading account.
Step 11: In your Trading Account, search for the asset you just transferred. Click on "trade." Select a trading pair for that asset that is either BTC or USDT. Input your 6 figure trading password. If you skipped earlier steps because you purchased BTC or USDT directly from Kucoin, please skip to Step 13.
Step 12: Depending on your comfort with Limit orders, you can set a limit price for the assets you are trading. If this is foreign to you, it is recommended that you choose "Market" price. Select the percentage of the asset (EOS, XLM, or any other asset you chose) you want to sell for USDT or BTC. Click on "Sell." If you chose Market order, you have now converted your asset to USDT or BTC. You are now ready to trade for ERG. _If you chose Limit order, you will receive confirmation of when the order has been executed. _
Step 13: Go back to your trading account. Search Ergo. Click on trade. Select ERG/USDT or ERG/BTC (depending on whether you have USDT or BTC for trading). Again, you can choose either Market or Limit order for this transaction. Select the amount of ERG you want to purchase. Click on buy ERG.
Congratulations! You have now purchased ERG!
Step 14: Once you have acquired your ERG assets, it is highly recommended that you move your ERG to a private wallet such as Nautilus or Safew. Centralized exchanges own the keys to the wallets. If anything ever happened with the exchange security, you could inadvertently lose access to your assets. By storing your crypto in a private wallet, you control the keys to the wallet.
If you are interested in accessing another resource on how to use Kucoin, we recommend the following video on Youtube from Max Maher. This video guides you through the various features of Kucoin, and it can be helpful in supplementing the steps we have outlined above.
Share post